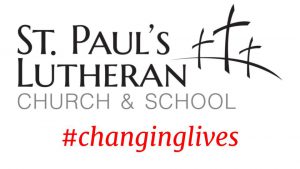 Mission
"Therefore go and make disciples of all nations, baptizing them in the name of the Father and of the Son and of the Holy Spirit, and teaching them to obey everything I have commanded you. And surely I am with you always, to the very end of the age" (Matthew 28:19-20)
Vision
Vision Statement: Changing Lives through Worship, Compassion and Christian Education
Basis: At St. Paul's Lutheran Church & School, we are a dynamic, Spirit-filled body of Christ impacting our community and ourselves through life-long and Christ-centered education. We unite faith and education together to create a grace-filled, Christ-filled, loving environment for all to thrive. We are a compassionate community seeking local and global opportunities to share Christ's love. With Scripture and Sacraments as the basis of our faith, our forgiveness is present and our hope is certain in Christ alone.
Values
Since 1859 St. Paul's Lutheran Church and School has been a community of believers dedicated and anchored in the message that eternal life is found in Christ alone:
We are rooted in Christ, growing together in Christ, and branching out in Christ.
St. Paul's Church and School strives to be a compassionate community where knowledge is pursued with excellence, where faith is rooted in Christ, and where character is exemplified through service.
We are dedicated to creating a caring a nurturing environment, producing life-long learners, creating disciples of Christ, and enriching people's lives.
Evidence of our growing faith is shown in Christ-centered education through both Church and School.
We embrace opportunities to bring others to a renewal in Christ, because Christ renewed us.
Our ever-growing faith creates an environment in which we feel loved and show that love to all through our many community missions and support of other mission organizations.
St. Paul's provides ministry provides opportunities through the life cycle which address the spiritual, physical, emotional, intellectual, and social needs of humanity.
At St. Paul's Lutheran School, students are given access to an education that addresses the whole child – socially, intellectually, emotionally, physically, and spiritually they can truly see excellence in education. We believe there are 3 vital institutions that help shape our children. These are the home, the church, and the school. A child's life is blessed when all these institutions point them in the same direction, which is to our Heavenly Father.